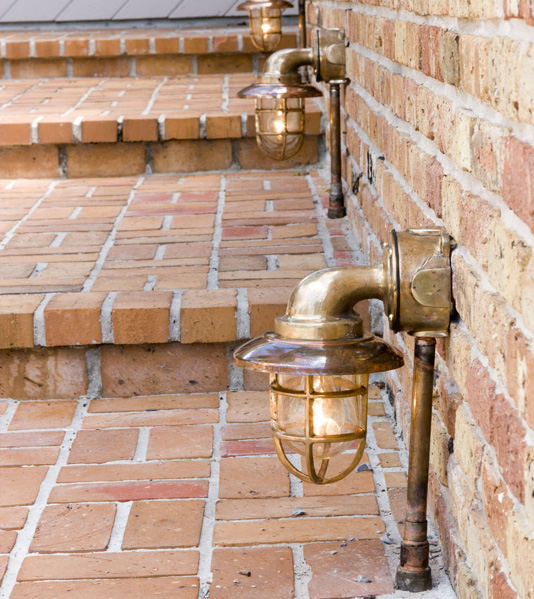 As the summer is approaching soon, many of us are turning our mind to entertaining outdoors. People like to venture out in the evenings, sit on the patio, deck, or around a firepit, and enjoy some fresh air with family and friends. Illuminating the exterior of your house has never been more important for moments like these, and it's a fantastic way to create the mood of the evening.
Often homeowners make mistakes while placing the outdoor lights and lamps, by arranging them in such a way that it makes it a strain to see things due to insufficient illumination. Here are some easy tips to get started with your exterior lighting project, ensuring optimum brightness while keeping it subtle for evenings and nights.
1.Path Lights
Path lights that look good and light up the front yard efficiently are ideal for a great exterior. Keeping the pathway lights as ow as possible will steer clear of any glare.
One way to do that is to install LED light strips, but we don't care for the intensity of the light, which tends to be a bit too harsh. Or, for a better and traditional look to your pathway is to put up path lights with domes that hide the bulbs. They appear classy and direct the light downward. This does away with the glare and focuses light on your feet and the path. We have some amazing options here.
2.Step Lights
You should avoid installing step lights that are too bright, which beams light in all directions. Instead, shielded newel-post step lights are better at their job because they direct the light downward and do not hit you in the eyes.
You can also use linear LED light strips below the stair treads. This keeps the focus of the light right on point.
3.Lanterns
Lanterns that are candle-shaped often attract glares which makes it hard for the eyes during sunset. Make sure you go for frosted shades. The fixtures should face down so that the light reflects from the floor. You can add dimmers or use low-powered bulbs to set the mood as well.
4.Pendants Above The Door
Always avoid using bare bulbs or use low-powered bulbs or dimers for lanterns and pendants. Using main lights for lanterns and pendants hurts the eye's iris and makes it difficult to see in the dark. Use milk glass or amber mica for the translucent glass in the fixtures. The light should face downward. Because door lighting makes a statement, consider earmarking more of your budget to this area, since it is the one that every visitor will take note of. Check out these outdoor lighting options on our site, which would be perfect pieces for your home's entryway.
5.Hidden Lights
Recessed lighting creates a different look for your exterior when decorating it with lights while keeping the brightness subtle. It manages to be best at providing enough exposure while staying hidden. You can place these lights behind shrubs or below decks or bottoms of walls. Such lighting helps highlight the smallest of the details of your house's exterior.
Summing Up
With these few tips, you can get improve your exterior lighting by decorating with lights efficiently. Installing the appropriate lights at the correct spots makes the exterior look and feel relaxing and welcoming for you and your guests. Moreover, if your house has a terrace or a garden, focus on the lighting at key spots in order to highlight its beauty.